(Admins & Mods, feel free to move this thread if I posted it in the wrong forum. Thx)
Hi everyone,
Well, it's me again. I've been having a problem today with my WD Elements External HDD, on my old lappy Compaq, Presario, with Vista Home Premium.
This morning I tried to open the WD Elements to look for some pictures, but all I got was a blank page with the pointer going 'round and 'round. Then I went to close it off and got the "Win Explorer is not responding" msg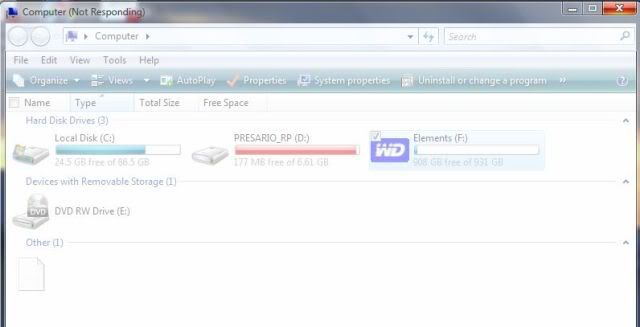 I tried every which-way-to-Sunday but my computer won't open the files. I plugged it in and unplugged it. I plugged it in another port. I plugged it in
all
my ports (3) with the same results. After the 1st attempt the icon didn't appear on my Notification Area so I clicked on Computer and then on the WD Drive but it just wouldn't open (see pic above)
I had Windows look for Drivers and after checking, Win gave me a msg that I had the updated drivers. I also had Win check for problems and it said "your device is working correctly" Lastly, I looked for a Java update for FF, which I found and installed it - thinking that would help, but it didn't. I must've spent about 1 hr trying to get this thing to work, to no avail.
Then I decided to try something else - I plugged it to my new HP laptop and it worked fine there!
So, my questions are:
- Have you ever had this happen to you?
- I so, how did you correct this problem?
As always, thanks for your kind assistance. I hope you guys can help me solve this mystery.
This post has been edited by Adama: 18 May 2012 - 02:13 PM