Hey ultra !
Yes, you can delete those folders BUT, please make sure that you don't have two programs
from the same author. Deleting an empty folder from one of those two programs might render
the other program obsolete. They sometimes use a shared .dll or the same folder to store
temp files.
Now, start with C:\ ProgramData . Go through the list of folders and mouse over to see if there
are any files left in them. If it comes back to this : (again, make sure you only have one program from that author)
then it is safe to delete.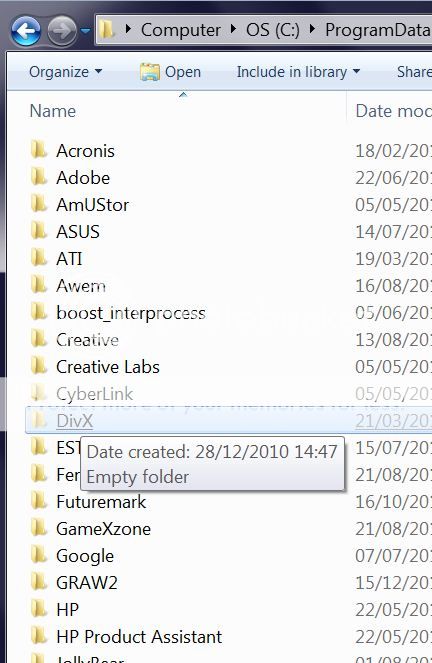 I had DivX at one point but, uninstalled it. There is still this folder left behind and since I only had
one program from DivX, I can safely delete this folder.
You might encounter a folder with some files left in them from programs that you have uninstalled.
Again, as long as you don't have another program from that same author, you could also delete
that folder.
Next , go to C:\ Program files(X86) and verify same. This is the 32bit folder
Then, move on to C:\ Program Files. This is your 64bit folder. Be very careful with this one as some programs
will install to this folder. Most programs are still coded for 32bit but others like CCleaner us this folder and
some like Java and Flash Player are coded for both but, have separate installers This is new because some
browsers like IE 64bit (which we all have on Windows7) cannot run 32bit Java or Flash Player so, you end up
not being able to view YouTube in IE 64bit. Browsers are Slowly coming around to 64bit installs but, Mozilla
(Firefox) which has a Unofficial 64 bit browser does not acknowledge this build yet.
Here I go rambling again LOL!
The last place for you look into would be C:\ Users\ your name\ and then the C:\ Public.
This is where you will find the libraries such as Documents , Pictures , Music and so on.
But, you will also find a Download folder. Look in there as it might contain some files that
do not need to be on your notebook anymore.
One last thing before I go ultra, please BackUp your files and not just the important ones. Some may look
trivial at the moment but just might become very important latter on.
And not just your files, backup those Installers from every program you download and install . Keep them
on a External hard drive or on a large enough Flash drive. The same goes for drivers that you update
like the ones from Realtek :
http://www.realtek.com.tw/default.aspx
HiDef codecs : check mark box on left and download latest drivers. The 64bit .exe is the one you want.
You will have to uninstall the one on the notebook (the program does that for you) and restart.
IF the program doesn't restart automatically upon reboot , (right click and run as admin) on the installer
and the new one will install. Restart again to finalize.
http://www.realtek.c...3&GetDown=false
or your video card :
nVidea :
http://www.nvidia.co...aspx?lang=en-us
ATI :
http://support.amd.c...uto_detect.aspx
Also, check the Device Manager to see if there aren't any Yellow Triangles next to the hardware.
Ultra, I think I've given you enough to last for some time and keep you out of trouble LOL!
But, keep me up-to-date on the status of your notebook.
You could also just come visit and chat.
FLASHORN.
This post has been edited by Flashorn: 16 July 2012 - 09:32 AM